Portable Water Fill Stations
J Stand Overview
Portable water loading stands easily fills water trucks and tanks, providing the convenience of a drive-through water filling station. J Stands are commonly used on farms, ranches, construction sites, mining/quarry sites and industrial sites.
The J Stand is made from heavy-duty aluminum making it very sturdy for years of service, but lightweight for portability and easy setup. Our smart design is what gives the J Stand the ability to independently support high-pressure water flow while loading water into tall trucks and tanks.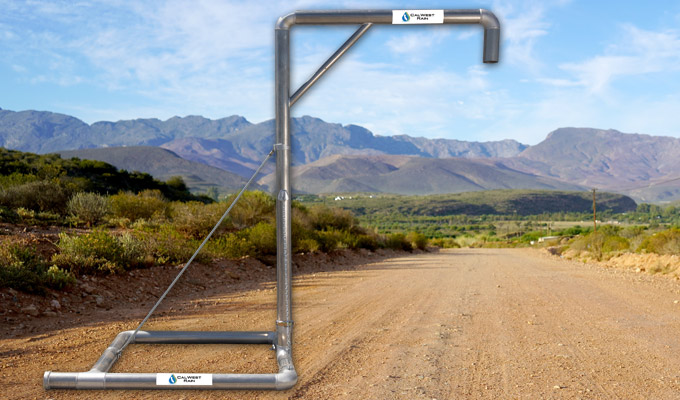 Smart and Durable Design
Our smart design makes the J Stand easy to use and durable for years of demanding use.
The inverted "J" shape fills the base with water first for increased stability and safety

J Stands can be easily loaded into a pickup truck and quickly assembled by one man

Easily connects to a pump or fire hydrant with appropriate fittings

Available with camlock, grooved, ringlock, firehose thread, FIPT or MIPT fittings
J Stand Models
We offer three sizes and various options to meet your needs. Additionally, we can also build custom J Stands to meet unique customer requirements.
Available sizes: 4″, 6″, or 8″ diameter J Stands

Height: 11′ from ground level to bottom of the spout

Base: 7′ X 7′ diameter

Outlet Spout: 7′ from riser

Optional 3' or 5' Height Extensions: 14' or 16' total height with extension. Extensions includes pipe, pole, chains & clamp
J Stand Pricing
Please contact us for pricing, options, lead times and volume discounts.
4" Diameter Pipe J Stand - Call for pricing
6" Diameter Pipe J Stand - Call for pricing
8" Diameter Pipe J Stand - Call for pricing

Optional extension packages are additional

Questions & Pricing: Marty Whiteley 661-589-8800